Hopefully I will be able fully describe my experience of going through the Ron Fellows Spring Mountain Performance Driving School on March 22, 2015 through March 25, 2015. I will probably will not do this justice because this was truly an amazing experience!
If you don't want the gory details just skip down to the photos and the videos at the bottom.
As many of you know it all starts as reward for buying a 2014 Corvette. About four months after getting your car, you receive a special formal invitation that you knew about but really didn't think too much about because you were having too much fun driving this beautiful machine.
But you can jump the gun and actually call Spring Mountain direct as long as you have purchased a minimum of a 2014 Corvette and own a real VIN.
In my case I was lucky enough to have several low and one high speed event under my belt. My first high speed event was in August 2014 down at the NCCC 2014 Convention in Savannah Georgia. I nervously raced at the nearby Roebling Road track while some friends that Pat found from Florida became my cheering section – now I was hooked!
The Trip
Pat and I flew into Las Vegas and stayed at Harrah's. Of course after a little sightseeing and gambling it was on to meet our friends from another club headed up by our good friend Ron Casto.
We rented a car in Vegas and drove to Pahrump NV which is about an hour drive. I recommend a rental because there are lots of activities off of the campus like an excellent winery.
We drove there on Sunday and arrived a little too early and the Welcome Center was closed so we went to the Pahrump Valley Winery. Excellent place for good food and wine. In fact I would recommend not eating lunch in Vegas and going directly to the Winery.  Then around 4:00 we were off to get our room keys, badge and the school schedule.
The Spring Mountain Facilities
Check out this link to hear more about the place from one of the the co-owners John Morris! Like he said, Pat and I were totally impressed by the clean and spacious room that was right inside the track on turn 2, the "A" building. It is actually a suite with a refrigerator, microwave, cook-top, coffee pot glasses, and all of the utensils to make any meal. However we opted to eat out most of the time. One thing I recommend as a seasoned traveler is to pick up a big package of bottled water for four bucks at the Target store on the drive there. You'll save some unnecessary ill feelings of the local water.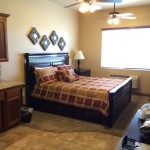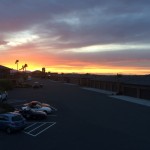 Spring Mountain is on about 300 some acres and has about 11 buildings for cars and people. Actually think of it as a country club for cars instead of golf. Many people own/rent garages and have their cars there and come in to drive the course whenever they want. There are many Mazdas and some Radical cars that look like mini formula 1 cars.
In addition to the great rooms there is a really nice pool and Jacuzzi right next to the main Clubhouse. There is even a workout facility and racquetball court. And for those that really want some fun there is a water Jetpack Flight Experience! Sorry, not for this body!
When we arrived there was the first ever Formula 1 motorcycle race. Very exciting to watch! But the many C7 Corvettes scattered around the complex immediately took my eyes away.
Monday Morning 6:45 AM.
Bright and early for everyone to gather at the Clubhouse for a really good breakfast. We met up with the rest of our group. Then it was off to class at 7:30. There is a shuttle that will pick you up and take you to the Corvette Building which is inside of the track but we used the rental car to get back and forth to our unit which was about 400 feet away. Pat used the rental car to drive back from the clubhouse to the room so it came in handy. Most of the rooms and the Clubhouse were outside of the track. If you wanted to get to the track you had to either use the underground tunnel or wait until the track was opened to cross on to. So once driving started it because difficult to go to your room or the Welcome Center.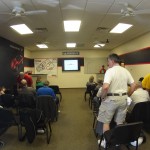 The first morning we met the director Rick Malone. REALLY great guy! He told us about what was planned and then introduced us to the 9 instructors that he basically handpicked. After it was all over you understood why! These were the cream of the crop! Dave, Ian, Jen, Paul, Ken, Rob, JJ, Ricky and Tom. Victor is their Master Mechanic. There was about 16 students and some spouses and friends. We were broken up into two groups that were easier to manage out on the track.
Rick and one of the instructors began by telling us to not to use the cell phones and that there were plenty of Tums and antacids in case we needed them! And they stressed Safety, having fun and not driving beyond your abilities! They also told us that we could use our GoPro type cameras on the cars but that it was best to turn off the WiFi on the camera to make the battery last longer- Great Idea!!
They then discussed the track and the facilities and then went into great detail on the C7 Z51 Corvette. Most of them were manual but a few automatics but all were Z51s both 2014 and 2015. They said that they were planning on getting more automatics due to the increasing demand. The 2015s had the PDR built in so you can bring a couple 32gb SD cards to record your driving! They said that all of the cars had DOT-4 brake fluid and stock brake pads but if they had to replace pads they would go with Hawk HPS pads. I asked about the tires and inflation. They were all stock Michelins but had a hot pressure of 38-40 psi.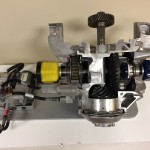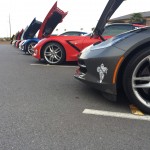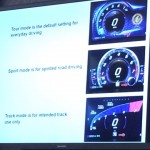 They taught us more about the Mode selection button and various other features. They even told us how to sit for racing which is different than for regular driving. Your seat should be closer to the wheel and the wheel should be tilted up higher so your two thumbs that were placed at 9:00 and 3:00, would be level with your shoulders. They said that if you turned further or had your hands at 10 and / or 12, and if the air bag went off you could easily break an arm!
They did say that even though all of the C7s were totally stock that they did use the cooling rings that GM supplies with all C7 Corvettes. They also talked about how the car works especially the traction control and the Electronic Limited Slip Differential. They had one with a cut away view to help understand it better.
Then after a couple of hours they got us out to do some actual driving. We agreed that this was better than just sitting in the classroom. The first instruction was the Serpentine loops to see how we could maneuver the cars. They wanted us to start looking ahead to the many turns instead of looking at the cones you were turning around.
Then for more fun with the head booties and a helmet that they provide. They even taught us how to put one on and take it off! Out to the course.
There were three driving areas setup in the paddock area. The first was an ABS brake test that made you use emergency braking along with good steering control on a wet pavement.
The next test was a Handling Oval that helped you understand the basics of a turn and the Turn-In and Apex. This was quickly followed by a really fun and very wet figure eight! Not only did they want you to actually skid but they turned off the traction control and actually added a little silicon to the water to help you slide around!! That was fun but help you understand what happens when you lose control.
Then they treated us to a really great lunch in the clubhouse. The food is actually good but you were thinking more about what you just did than what you ate!
Then back to the classroom for more instructions. They taught more about the mode selector and the many functions especially the P.T.M., or Performance Traction Management. They even mentioned the Launch Control that they demonstrated at the end of the next day. They then taught us about the heel toe downshifting exercise and how to Blip the gas with the side of your foot. Then back out to the track to try this out on the two long straightaways. I had my regular street loafers on because I didn't think we would be on the track the first day but I was wrong. I found this difficult but much better the following day with the softer race type shoes. We tried this two days at varying degrees.
We then got to go out on the track for a low speed tour of the entire track. That was very exhilarating!
Dinner was provided at the Clubhouse if you wanted to have some burgers and pizza but our group decided to try out one of the local places for great food and some interesting company! There are a few places to go for really inexpensive food like the Casino with a $6 buffet or even the chicken ranches with actually good food!
The following day started the same with breakfast and then back to the classroom and to learn the basics of how to corner. We were introduced to Brian the photographer. He said he would be on the track today to capture some great shots. He normally sends out a discount coupon but nobody received them so he charged everyone a flat $165. He did take some great shot on the course.
Continuing on they quoted Ron Fellows, "It's far more than simply going fast and learning when to turn and apply the throttle." And boy was that the truth. The 8 Steps to a corner was extremely important and I would say the heart of why we were there. Visual Scan, Brake (enough to slow for turn then light), Downshift, Turn-In, Balance, Clip-The-Apex (on the rumble-strip), Unwind, and Accelerate. But also, Slow in Fast out! Didn't understand that until later!
You were told to brake in a straight line, then downshift with light brakes to keep the weight on the nose. Then at the Apex to gradually accelerate out of the turn. And to push up on the steering wheel and not pull down. I got the hang of this after settling down and actually relaxing during day three. The shifting technique is also very important. They stressed using your fingers only to go from 3rd to 4th and then the palm to downshift from 4th to 3rd. This helped a great deal because that's the only two gears you use on the track.
The main idea is to control where the weight is on the car and transfer it to the appropriate wheel. If you were cornering you need to transfer weight on the front wheels. If you were accelerating around a corner you needed to have the weight on the rear but only if you had put the weight back on both rear wheels. And if you were cornering you could have the inside wheels to be light on the rumble strips but not on the exit, they had to have the full contact on the pavement not on the outside rumble strip.
This is where understeer and oversteer came into play. And another very interesting phenomena was Throttle Steer. This is when you were coming into an Apex and needed to get closer without braking so you simply let off of the gas and the car amazingly turned in further! Conversely if you were too close you could add more throttle to make the turn wider.
Off to the track to practice the heel and tow exercise again. This became easier with the soft shoes. I didn't stab the brake pedal as much and was able to blip the gas for the downshift. And we did the lead follow exercise with the instructors looking in their rear view mirrors monitoring your every turn and brake. This was totally amazing! You almost thought they were in the car watching your every move but this did help once you got over the shock of how they were doing it.
This day was really fun and we learned a great deal. In fact if you see these photos and some of my videos you might say the same thing I said, no way would I be doing this. But they eased you into all of this one step at a time and there we were on the track at high speeds following each other closer than I could have imagined.
This day however was a bit of a blur. I remember most of what happened including another lunch but it all ran together because we were on the track most part of the day which was a feeling that you have to experience to understand. More lead follow exercises and this time each one of us were asked to rotate to the front of the group so the instructor could see our individual progress. I really can't begin to describe all of this except I noticed that it was increasingly harder to get out of the car because the smile on my face was getting wider and wider! They even have a name for this, a PermaGrin!!
We then had our class picture taken and were shown the Launch Control on the automatic and the stick. Even though I saw it I don't know if I'm ready for it but it was amazing and does work as described!
Then back into the classroom for the graduation ceremonies for those that only stayed the two days, a little more than half of the class. We all said our goodbyes and then relaxed outside by the fire pit with a few well-earned beverages. Those that were left all talked about their experiences and so many excellent emotions and things we all learned. But the one thing we were all concerned about was the statement they made about experiencing a new track on the third day! We all started to try to figure out which course we were going to use and what new experiences we would have.
After a few drinks we drove off to the Casino buffet for just enough to eat and to hit the sack to be ready for the third day.
Morning again was the usual and in the classroom we were relieved to find out that the new course was actually the same course but that we would all be driving it by ourselves without the instructors. Holy Smokes!! They then taught us that all of what we learned in the last two days was actually preparing us for this day except for a few new twists. We learned about Open Lapping and Rules. They again expressed Safety and being safe which was very good and reminded you not to drive beyond your abilities. They reminded us that now we would be alone to remember to look at our rear view mirrors for faster more aggressive drivers. And actually how to pass on the longer straightaways.
Then off to the track again! And boy was this fun! I stuck my camera on the car and was ready. I learned a great deal and all of the things that we learned was starting to click in with almost an autopilot. Then when you thought you were doing okay one of the instructors would ask to ride the passenger seat! OMG! But it was reassuring again, there was no intimidation but only assistance to help you drive your best. And I did, I found out that I was doing good and my instructor, Rob, took me through each of the turns refining what I had learned. When he exited I kept on hearing his voice, wait on it, wait on it, okay go! This was the absolute best feeling and glad I did the third day!
We finished out laps, went to lunch all with even bigger smiles and more stories and then back to class.
They offered some lasting thoughts about refining our methods of open lapping and passing.
Constant steering – Constant tempo – smoother is better
Brake first as hard and full as needed through turn then light
Always brake first then downshift
Downshift done before turn (Be the Lord of Weight Transfer)
Push up on wheel (get feedback from car) Light hands – like a bobsled
Balance & easy on the gas pedal for smooth acceleration
- Look for white cone with pink sleeve for Near Apex
Turn to the beginning of Apex slow down Throttle Steer
Shaving of rubber off tires normal – goes into grooves & comes off with a noise
Brake before Turn-in then light brake to tell car you are turning but stop doing at apex
- If you are on the gas the C7 electronically gears up for that
- If you are even slightly on the brake car understands especially the ELSD.
Early In Early Out vs Late In Late Out and Slow in Fast out!
Look behind for aggressive drivers that want to pass
With those final thoughts we were off to the track again for the final few laps! I thought I was having fun before but this final few laps were even more amazing! You actually felt like you were on a real race course driving safely with the knowledge that you know what you had to do and when executed properly you were repaid with even more exhilaration. Even though I didn't have the fasted speed on the back straightaway I found myself executing the turns properly and even passed a few of my fellow classmates!
Back to the classroom for more information on the use of the flags and the flaggers on the track.  They are your friends, wave to them!  But understand what these various flags mean.
Then our graduation ceremonies and certificates and to thank Rick Malone and all of the instructors for a job well done. They were personally appreciative of what we had accomplished, almost as much as we were!
Pat and I give this place and all of the people our highest recommendation! Any Corvette driving enthusiast especially those with a new C7 will totally benefit from this experience!
And remember all of this is only the Level 1 School.  There are actually three levels.  Past graduates of Level 1 have come back to refresh Level 1 and then have progressed to Level 2 and even Level 3.  OMG!
Finally, if anyone is interested in going to Spring Mountain Performance Driving School, please see me for a referral reward that we can share in.
My Track Videos:
Here are links to the videos I took with my Sony HDR-100V and with the C7's built-in PDR.
Sony Top View https://youtu.be/XslXZcA-85o
Sony Right Side https://youtu.be/KX0cBKiyt3w
Sony Left Side http://youtu.be/2T6Cu-zqxE0
Best Laps PDR https://youtu.be/6o4crwA__Rw
Best laps PDR https://youtu.be/6P2z1ZVdj_k
Thank you!
Fred Dugach