C5 100K Miles – An Owner's Experience
Considering purchasing a Corvette C5? Are you wondering how durable the car might prove to be over time? While a single owner's experience can't predict what will happen with your C5, problems that occur in one car often predict what others will find. With that in mind, here's my experience with my 2002 C5 Corvette Coupe which I purchased new in April of 2002. The car turned 100,000 miles near Iowa City, IA in September of 2013.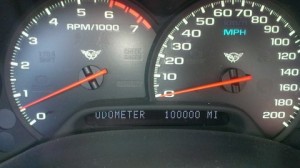 Body and Paint, Exterior – Grade "A"
I didn't know what to expect from the fiberglass body? Would it get cracks? Would the paint fade? Would it get chips that would be hard to fill? I give the Corvette body an "A." The paint looks like new (the car has been garaged and not driven during the Winters here in Ohio.) The fiberglass resists dings and chips better than metal. I have not seen a single crack form and there are still none of the "creaks" I expected.
Interior – Grade "B"
The C5 was not known for a great interior in the first place, with large panels of uninspiring plastic on the doors and a basic mid-quality leather covering on the seats. The plastic materials have held their colors and have not developed cracks. However, the seat foam has deteriorated and should be replaced in my car. (A friend rebuilt his seats with good results. Body shops can do this for you and I'm likely to have them fix mine.) The leather is still okay, the carpet is wearing well, and I have not had problems with the electrical accessories.
Electrical Systems – Grade "B"
I have experienced three problems with what I will call the "Electrical System" in general. First, my ABS computer required replacement at approximately 40,000 miles. The text in the driver information display that normally shows the odometer reading or other messages began displaying "Service ABS." I took my car to the Chevrolet dealer and they happily replaced the ABS computer for $1,200! I later found out that ABS Fixer, with a reference on the Competition Corvette website, repairs the ABS computers for $200 and they plug into the system with little difficulty. Lesson learned, $1,000 wasted! Second, my right headlight stopped popping up when I turned the switch at about 80,000 miles. I was able to fix this for $65 by purchasing a brass replacement gear kit and taking about two hours of my time to rebuild the gearmotor the powers the headlight. The Chevrolet dealer wants $500 to replace both gearmotors, but you can save this expense. Third, my fuel gage began to abruptly drop to zero fuel from about a half tank with about 65,000 miles on the car. C5 owners will tell you this is a common problem and it can be solved by adding Techron fuel system cleaner every 10,000 miles. (Note that I almost always use regular (not premium) fuel and perhaps this problem would not occur with premium, but I doubt that would make a difference.) Apparently something in the fuel renders the fuel sending unit intermittent until it is cleaned by the Techron. In general, I consider these problems (except the brakes!) to be minor.
Mechanical Systems – Grade B+
In this category, I include the engine, engine accessories, the transmission, the suspension, and the brakes and tires. (This forms a big category, I know!) First, here are a few simple things. I change the oil and filter myself with high-quality, conventional 5W-30 once per year, or approximately every 8,000-10,000 miles. (I know that this sounds like sacrilege to some Corvette owners, who swear by synthetics, but I am stubborn and believe that the anti-rust properties of conventional oil outweigh the anti-wear properties of synthetics for applications like everyday driving that don't require much power from the engine. If I was running on the track a lot, I would use synthetic!) My first set of tires (Goodyear) lasted 36,000 miles. I replaced them with Michelin as the price was about $1,400 – or $120 less than the Goodyear offering. That set lasted 38,000 miles. I replaced them with another set of Michelins at 74,000 miles and that is the set on the car now. Brakes, including pads and rotors, front and rear were worn and replaced at the same time as the tires. (JJ's in Concord, OH did an excellent job on both brake jobs.) Some people have told me that my experience with tires and brakes is better than average. I don't know. I have taken my car on the road track at Beaver Run eight times for a total of about 700 miles of track driving, plus a few Corvette club low-speed events. The other driving is mixed highway and suburban/city streets.
While my automatic transmission has performed very reliably, it's probably the weakest point on the car. It's a four-speed with a six-inch torque converter, standard for the C5 in 2002. If you're going on the track, especially road courses, four speeds are just not enough to put the Corvette power at the wheels! Much less powerful cars gain on me as the engine speed on my automatic C5 builds to allow me to regain position. Frustrating! This problem is solved, I think, with the 6-speed in the C6. (Yes, I could have bought the six-speed manual, but I wanted the automatic for everyday driving. I know that might be a bad compromise for some of you!) Not only does the 4-speed automatic not offer enough gears to match the engine, it also overheats under track conditions. Transmission over-temperature has caused me to leave the track on several occasions. However, in all normal driving, the transmission has performed very well with no problems.
The engine has performed flawlessly! Telling about 28MPG on the highway in a car like the Corvette causes me to be accused of fibbing, but I promise the mileage is accurate! The engine remains as good as "day one" after 100,000 miles. However, whoever designed the accessory drive train needs a bit of remedial work. I have spent over $1,500 resolving some problems with the harmonic balancer, the air-conditioning compressor belt tensioner, and the water pump. With these replaced, the belts run smoothly and quietly.
The suspension presents a high-point for the car. Beautiful forged aluminum pieces underneath are strong enough to handle racing loads and are loafing on highways. No problems with the bushings, shocks, etc.
Overall, I have been very satisfied with the first 100K miles on my C5. I expect to drive it another 100K over the next ten or so years. Stay tuned!
Ken Deken
kfdeken@sbcglobal.net